Marilyn O'Toole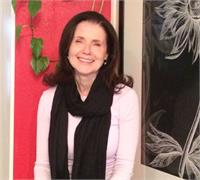 Marilyn took her first yoga class in 1971 and a seed was planted. Living in the fast lane at that time took precedence and she was not ready for the yoga pace. The seed germinated and eighteen years later blossomed as she started taking classes at the Freehold Yoga Center. For the twenty five years since Marilyn has been cultivating her practice, receiving her first teacher certification at Sivananda Yoga Retreat Bahamas in 1997, studying Ashtanga with David Swenson, and more. Marilyn was introduced to Anusara yoga at Dancing Foot Yoga. Her classes incorporate breathing and relaxation drawn from Sivananda with the alignment from Anusara.
Marilyn O'Toole instructs the following:
A complete Yoga class emphasizing mental and physical attention to different areas of the body each week with a wide variety of poses. Students are guided through the poses at their level by offering many pose options with a mindfulness on alignment and breath. Each class finishes with a sequence of restorative poses to allow for deeper opening and relaxing of the body and mind. Students of all levels welcome.




Our signature alignment-based class geared towards beginners. If you are new to yoga or have dabbled in yoga in the past and are looking to rekindle your practice, then this class is for you! Students learn proper alignment in key yoga poses to increase flexibility, strength and balance. Students also learn how to coordinate breath and movement through basic flow sequences.