Alice Balzarini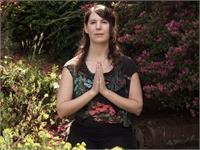 Alice loves teaching yoga to all ages. She began her yoga journey in 2001, and her personal practice led her to earn certification from Ashram Yoga in 2015. In her mindful flow of poses, she creates a safe space for students to connect to the stillness within. Alice also teaches children's yoga, and is a Reiki Master Teacher. She believes yoga is the perfect tool to uplift ones spirit, calm the mind, and nurture the body.
Alice Balzarini instructs the following:
Gentle Vinyasa Flow Breath and posture are linked together in this accessible, calming class. A safe space is provided with alignment cues. Class begins with warm ups, follows up with flows, and ends with an active meditation, and relaxation. Open to all levels.




Our signature alignment-based class geared towards beginners. If you are new to yoga or have dabbled in yoga in the past and are looking to rekindle your practice, then this class is for you! Students learn proper alignment in key yoga poses to increase flexibility, strength and balance. Students also learn how to coordinate breath and movement through basic flow sequences.




Restorative Yoga provides our bodies and our minds an opportunity to step out of "go mode." Reboot and recalibrate hormones, calm the parasympathetic nervous system, and find deep, uninterrupted rest, fully supported by bolsters, blankets, and other props.

While each student rests in restorative postures, Alice will offer Reiki, a gentle hands-on healing modality to further restore and balance the recipient's system. Stress and anxiety melt away, replaced by a sense of well being and release.

This workshop will renew and inspire you! All levels welcome.