Regina Bliss Golden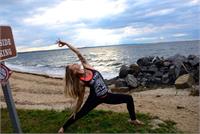 Regina was drawn to the introspection her first yoga class provided. She felt the value of being able to observe one's own mental and emotional processes. In a day and age when the focus can be very external, this was the practice she needed and gravitated towards to provide balance in her life. Her mission is to help spark the light in others and fan their fire through Yoga, to help uncover the divine that lives in everyone, and to bring an awareness to the sea of consciousness that we are all a part of. Regina's classes bring harmony to the mind, body, and soul by connecting students to their deep personal power and strength through breath, alignment, mindfulness, & meditation. "When we feel strong, secure, and spacious in our own body & mind, it is then that we can find the courage to walk our Heart's Path." Regina's classes will leave you feeling strong, open, rejuvenated, and tension free. Regina has completed two 200 hour YTT programs, one in June 2012 and the other in May 2015. She completed Yoga Nidra Level 1 Certification with Swami Shantimurti Saraswati in October 2013, and two seperate 30 hour refresh & refine (Anusara) courses with Carmel Calcagno & Dina Crosta. To Be Continued… always a student, the eternal Guru within.
Regina Bliss Golden instructs the following:



Do you find yourself asking where the month has gone? Our experience of time is flexible; it depends on attention, motivation, the emotions and more. This practice is designed to help students find balance and add more value to their current life by engaging in a monthly ritual of asana, pranayama, meditation and other various forms of self-inquiry. Students will take a wider lens to their past month, enabling them to observe any patterns or common themes — what is coming up? - then forming a Sankalpa around this. This practice is all about coming home to ourselves and aligning with our heart of hearts, reflecting and restoring as the next month approaches.

This practice takes place the last Sunday of each month. Drop in for $20 or use a class from your package.