Gabrielle Nadeau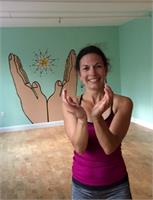 Gabrielle has had a passion for music and movement since her pigtail years. After over a decade-long journey in competitive sports, she realized that her body needed another movement form. Curiosity brought her to experiment with flamenco, ballet, jazz, improvisational dance, the 5Rhythms®, Ashtanga yoga, and then, in 2009, Nia. The elegant blending of 9 movement forms, the body awareness, and the delightful soundtracks makes the Nia Technique® her favorite practice. Her commitment to Nia brought her to complete the Nia White Belt Training in 2012, and the Nia Blue Belt Training in 2014. She has been sharing this holistic practice since 2013 in various studios and gyms throughout Monmouth County.
Gabrielle Nadeau instructs the following:
All levels welcome! The Nia Technique class combines Dance, Martial Arts and Healing Arts with Yoga to enhance cardiovascular health, strength, flexibility, creativity and the pleasure of living in your body. As an added bonus each class ends with restorative poses, transforming your Nia experience into Nia-aaaah. No dance experience necessary. Join us for this mid-week oasis that will leave you feeling powerful and peaceful.