Janet Pacifico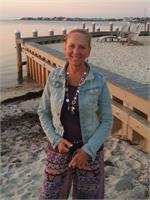 Janet is a NY/NJ elementary school teacher with 30+ years of experience teaching children with various learning challenges. She is committed to sharing the many benefits of yoga with all children. Janet believes yoga gives students what they need to be self-confident and believe in themselves. Teaching yoga and mindfulness provides children with tools to help them focus, make good choices, and have a positive attitude about themselves and others. It also gives them confidence to celebrate and enjoy all their accomplishments, even the small ones. Janet is a certified 200 hour yoga instructor from YogaWorks Soho, NYC. She completed her Kids Yoga Training, Levels 1-3, at Little Flower Yoga, NYC, as well as Chair Yoga Training for seniors and the classroom. Additionally, she is a certified Reiki 1 teacher focusing on individuals and small groups. Janet is looking forward to sharing her love of yoga and the excitement of her new journey with all children at Align Amar Yoga!
Janet Pacifico instructs the following:
Kid's Yoga is a fun-filled way to move with greater awareness and focus, develop strength and flexibility, enhance physical performance and self-esteem, play to cope with stress, relate to others, and pave the way to life-long health and wellness!