Chuck Blair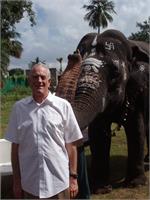 Chuck began practicing yoga in August of 2005 at the suggestion of a friend. As his practice progressed and grew to include meditation and pranyama he found awareness, peace and contentment that has changed his life. His greatest desire is to honor his teachers by sharing what he has experienced with others through teaching. Chuck took his first yoga teacher training at Blue Moon Yoga in 2007 and began teaching soon thereafter. In August of 2009, he took a 12-day teacher training with Dharma Mittra at the Omega Institute. He completed his Anusara teacher training with Carmel Calcagno and Dina Crosta in February 2012. He teaches an Anusara-inspired hatha yoga with alignment. He is alo trained in yoga nidra and leads sessions locally. Chuck felt an affinity for the sweet teachings of Tantric scholar Dr. Douglas Brooks the first time he studied with him. He has studied frequently with Douglas and traveled with him to Tamilnadu in southern India in December 2012. His experiences in India were amazing and will be working on him for a long time to come.
Chuck Blair instructs the following:



This class is specifically designed for individuals experiencing limited mobility due to injury, surgery, or neurological and musculoskeletal disorders such as Multiple Sclerosis, Parkinson's, brain injury, cancer, osteoarthritis and scoliosis. The class opens with breathing exercises and continues with range of motion to establish and maintain mobility in the joints. Class begins with seated poses done either on the floor or in a chair. Stretching, strengthening, and balancing poses are performed either seated in a chair, on the floor or standing, as appropriate. Our studio is fully accessible. Use the entrance located between the spa and the cleaners.